Apologies for the lag, I've been telling Umi, I have hit a busy patch in my business, normally things move much faster. I am working on preparing a marketing profile for Arseen with hard data about your website and your industry. In order to get good metrics, I need to get access to your weblogs and files. I want to see what your in-house data says about traffic to arseenautobody.com and glassdepotsj.com.
Ozhen, I know you had concerns about not wasting resources on arseenautobody.com , the point of conducting this data is to show you how many ten's of thousands of people travel to your website each year and make judgments about your brand, your company's size, and it's capabilities based on what they see (or what they don't see) on the web.
These are not just end-user clients, but all the people in your industry that deal with auto-body repair.
I know you want to drive traffic for an increase of glass business, I want to also present why you should consider rebranding Arseen Auto Body and potentially get stronger conversions from the web then you're now getting.
Google account we claimed: Arseen Auto Body Google Places Listing 
* If you have photos of the outside of the shop and the facility grounds, please forward them to me so I can optimize and upload them to your Google Places Listing. This is also where you will be sending your testimonials.
Since Jan 2010 alone you have received over 45,000 impressions on Google, notice the attachment that shows a rough breakdown.That is crazy high! It means your name has shown up that many times in 2 years, that is some serious cause for brand management simply based on your marketing reach. Of that number since Jan 2010, just under 10k to action on your listing. Think about converting on another just 2-3% of that volume … with more data I can help you realize other gaps where you can possibly increase revenue, if you address them. Additionally the numbers here will increase if we optimize, you are doing all this just off of raw presence in your industry, you have 0 organic optimization right now, if I optimize, all of these numbers will climb!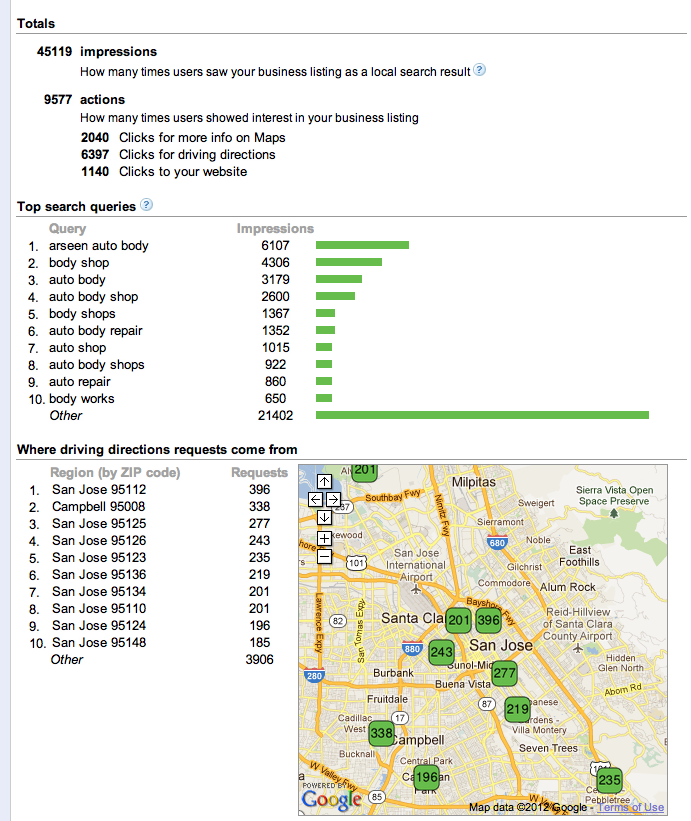 A light Agenda of future needs to consider:
Off-site Marketing & Planning Items:
testimonial and brand management improvement  off-site (in store support)
arseenautody.com analytics and diagnostics
glassdepot.com analytics and diagnostics
Website Related Items:
on-site rebranding and reputation management
highlight the facility itself, use videos & photos
highlight insurance representation in-house and ease of use of Arseen vs local competitors
on-site longterm marketing efforts (return promos, database building, brand-trust building)
address call to action organization and usability (what do you want the user to do on a page)
address work portfolio and on-site testimonial integration from yelp and google
A breakdown of what I need to continue:
– FTP Access or direct contact with the original website developer for both websites (arseen and glass depot).
Thanks guys, please call me with any questions.
Below you'll find some keyword preliminary keyword research to give you an idea of the amount of people that could be introduced to your name that are now not seeing you.
Keyword Research based on Google avg Monthly Searches: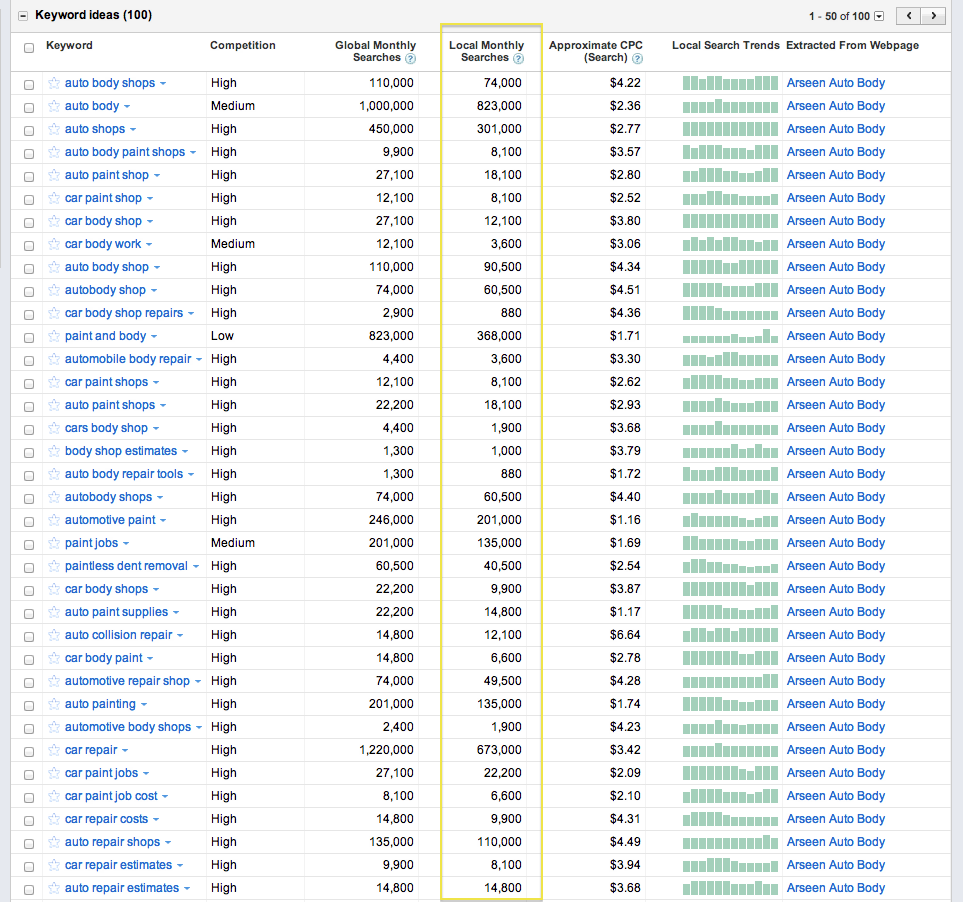 More Targeted Keyword-phrases producing Better Conversion Ratios: